Motivation
A variety of articles about weight loss motivation
Submitted by Michelle Rebecca on Mon, 07/22/2013 - 16:38
From personal experience, I know that if I wait too long to adjust my diet and/or get back into a solid exercise routine, the pounds will begin to accumulate fast. And with age it becomes even harder to get them off.
To begin with, you have to be motivated, or even the best regimen in the world won't work. Motivation begins with setting realistic, achievable goals. Telling yourself that you have to lose 20 pounds before next week isn't going to help. You're setting yourself up for failure and disappointment, not to mention it's not healthy to lose that much weight in that short amount of time. Start with a smaller, more realistic goal to get you started; maybe two pounds a week.
Submitted by JJHerman on Fri, 02/01/2013 - 01:58
As a kid I'd drink milkshakes, eat pasta, meat and cookies all day every day and never could gain a pound. Fast forward to my late twenties and I found myself weighing in at 220 pounds (height: 6 '1 1/2').
Gaining weight gave me a sense of pride. After all, I endured years of being a twig, wiry yet able to blow over during a strong wind. The extra pounds rounded out my face, made me look older and it was fine with me. But then the health issues started and my only way out was a change in what I ate, how often I ate and how I began to approach food.
This is usually the case, with most people falling into bad habits and not worrying about the consequences until they stare you in the face. For me the consequence was sciatic nerve pain the shot down my legs. The first two years down my right leg and the last two down my left. At times this could be crippling so my 220 pound weight was not going to fly anymore.
Submitted by Pran.Regalo on Sat, 10/27/2012 - 05:41
Being an entrepreneur is tough– busy days filled with phone calls, appointments and a lot of late nights trying to stay focused and motivated. This creates an environment where cooking healthy meals and making sure to hit the gym are the last priorities of the day. Well, it has been shown that working out on a regular basis actually provides many benefits that will make you a more successful entrepreneur. Check out the 5 reasons below, and I guarantee you'll want to stop putting off a trip to the gym.
1. Energy and Productivity

Maintaining a regular exercise routine has been shown to increase energy levels throughout the day. When you exercise, you are increasing your heart rate, blood flow and oxygen transport to your muscles. All of these factors result in a much higher energy level that will last for hours after your workout has ended. Being an entrepreneur requires being focused and self-motivated to get things done. Working out on a regular basis will ensure you have the energy required to face the challenges of the day aggressively and confidently.
Submitted by Derek Doepker on Thu, 10/18/2012 - 17:47
Sticking to a diet plan can be a challenge for even the most self-disciplined people. Oftentimes it's assumed that you just have to "force" yourself to change your behaviors through sheer willpower. But willpower alone is rarely successful when it comes to making lasting changes.
So what can you do instead? Using these 5 simple tips, you'll be able to finally start working with your psychology rather than against it.
1. Focus on Habits
The problem when someone says they're "going on a diet" is that it implies at some point they're "coming off a diet." But what good does it do to eat better, lose excess weight, get healthy, and then turn around and toss all of that away by going back to poor eating habits?
A better approach is to realize that you're already "on" a diet. This means seeing healthy eating as a lifestyle rather than a means to an end. Remember, if you want continuous results, you need continuous behaviors that produce those results. And those behaviors are your habits.
But isn't changing habits hard? Doesn't it require a lot of willpower?
Submitted by Amy Trenton on Thu, 10/04/2012 - 13:50
With the common eating habits and lifestyle in America, most people start seriously aging around 55. With this comes injury and illness. Most people get a little overweight and more sedentary. While not all health problems can be avoided, by losing weight and taking control of your health you can eliminate a large percentage of possible health issues.
Whether you are currently healthy or not, whether you are 45 or 65, you can improve your health. There are things you can do at any age to help the aging process happen a little smoother and without as many health problems.
Exercise 5-6 Days a Week for the Rest of Your Life
Working exercise into your life to achieve weight loss and improve health is something most people can agree on. However, one of the most important parts of this is to do it for the rest of your life. Going on a health kick followed by a state of apathy and gluttony is not going to create a healthy you.
You need to dedicate yourself to exercise for the rest of your life. Exercise can soften the effects of aging, but you must continue to exercise as your body ages. Start exercising every day, and don't stop.
Submitted by matthavoc on Thu, 09/20/2012 - 08:09
For Mixed Martial Arts enthusiasts (like we are over at Havoc), nothing is better than watching two professionally trained fighters go toe-to-toe in a ring. But if fitness, not fighting, is more your thing, there's a lot to learn from these incredible athletes. Their sport requires them to have the explosive strength to charge, the maximal strength to lift an opponent, and the cardiovascular endurance to stick through several rounds of intense competition!
So while you may not want to take a beating like contact athletes do, you can still take a page from their training logs. Here are 5 easy ways to integrate the training of contact sports into your workouts!
#1. Get Heavy With It
Hitting a heavy bag (aka a punching bag) is a fantastic workout. Not only will you get an abdominal, shoulder and triceps workout from punching, you'll also work on your cardio as you duck, dodge, and move your feet. Make the most of your heavy bag use by constantly moving to keep your heart rate up.
Submitted by Anna Fox on Mon, 09/10/2012 - 00:50
I am a Pinterest addict, hands down. But I didn't start out that way, when I first signed up for the social networking image site. In fact, I could have taken or left it in the first months. Often, I never even looked at my account for weeks at a time. Eventually, I gave it up altogether, until I found my way back a handful of months ago.
What was it that finally made me go gaga for the fastest growing social media site on the web? The many applications for improving health through proper diet, exercise and general feel-good motivation. All things that I had been seeking, and found in the most unexpected place I could have imagined.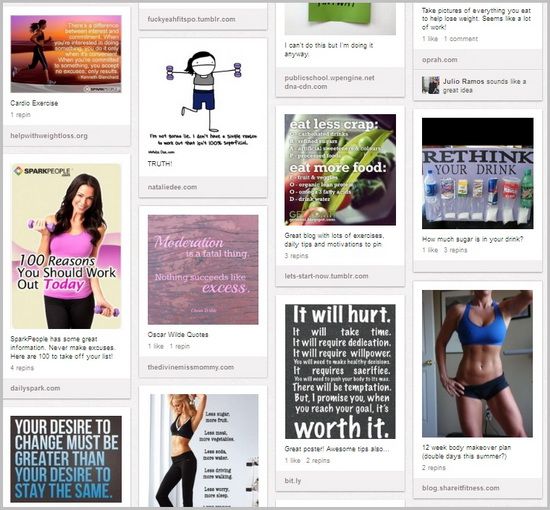 Many people are now using Pinterest to help and fuel their motivation for weight loss. Whether it is a small diet to help you fit into that dress, or you are making lifelong lifestyle changes in the way you treat your body, here are five ways that you can pin your way to a new you.
Submitted by wesleyreacher on Fri, 09/07/2012 - 08:31
Don't have a workout partner to keep you motivated and in the gym? No problem. Just use your smartphone. You're probably no stranger to fitness apps. They have been around as long as smart phones have. Apps can be great tools for tracking your progress and fitness levels, but have been missing a crucial component: motivation. True motivation. Most fitness apps have some sort of cursory form of motivation, like "cheers" that are broadcast through your social networks, but if you don't run, there isn't much of a consequence, at least not through the app.
There are three promising apps that you should definitely check out if you need a little extra boost in the fitness department. They're called:
Submitted by sonia jackson on Tue, 08/28/2012 - 02:51
Working out as expected enhances your mood, generates endorphins and sheds weight efficiently. These benefits notwithstanding, a lot of people still keep away from the gym like the plague. Why?
Probably, for the fact that it is just not that fun. Even before getting started many people lose their motivation to exercise. They have a lot of excuses like being very tired, the gym is boring and there is no sufficient time among other excuses.
Nevertheless, consistent exercise is imperative to your fitness routine irrespective of whether it is cardio, stretching or weight resistance, if you really want to be in good physical shape. Ordinarily, to keep your body in top physical shape you need to devote at least 20 minutes a day to working out in a gym.
Hence, identified below are 7 things that will motivate you to go to a gym regularly particularly if you are bored with your current workout program or you have even lost it completely.
1. Dance and lose your weight
Submitted by annoymous (not verified) on Sat, 01/28/2012 - 03:05
Apart from my love of helping people actually lose weight, I also have a soft spot in my heart for helping people get motivated to shed the pounds themselves. Today's article is going to focus entirely on how to get motivated to lose weight and what you can do to help yourself lose those extra pounds when you think you can't.
Staying motivated is the key to success when losing weight, not the actual workouts. If you can keep your eye on the prize long enough, you can get things done. Below I will share some of my favorite motivational advice to hopefully inspire a few more people to actually get out and lose the weight they want to.
The "Why"
Disclosure: We review and test many products on this site. Nobody pays us to review their product. However, if you end up purchasing one of these products we sometimes receive a small fee from the merchant. This helps to keep the site maintained and running.